We've been working with coffee shop chain Harris + Hoole to design and build an award-winning mobile service, seamlessly fusing the physical with the digital, providing next-gen loyalty and an unparalleled frictionless payments experience.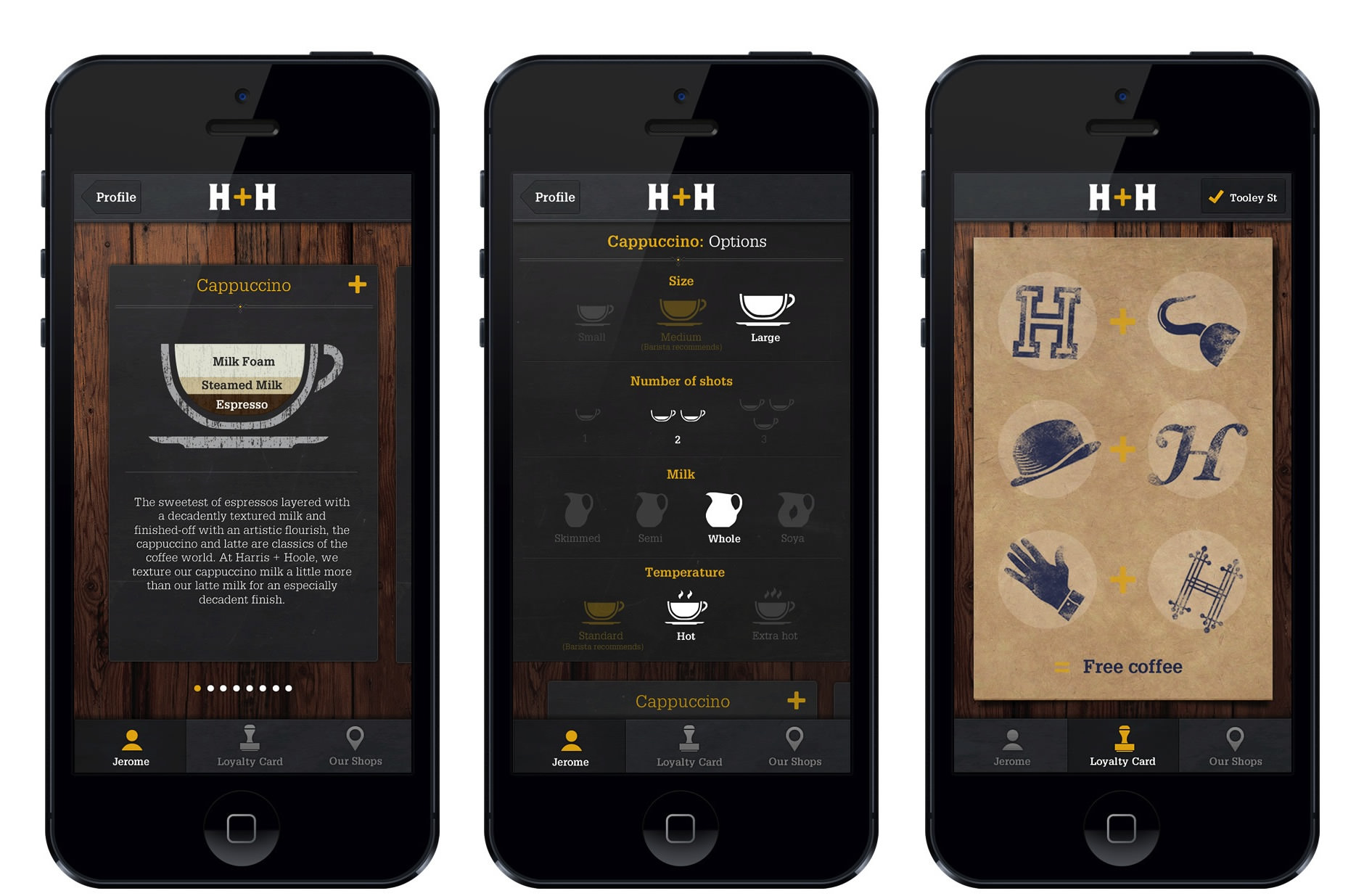 The H+H app
The story so
far…

So we started working with H+H to use mobile to revolutionise and enhance the in-store coffee experience. The service created can be used for coffee customisation, as a digital loyalty card, for payment or to find the location of your nearest store. You even get a free coffee on download. The H+H app has brought about real positive behavioural change for customers, fusing together a brand new 'phygital' experience. In some stores the app already drives up to 50% of orders.
Award-winning and popular
Lots of shiny things came our
way

The Harris + Hoole mobile service was launched on iOS and followed with Android. Highly regarded by both iOS and Android users with 5-star and 4.9 ratings respectively. There have been over a quarter of a million check-ins on the App. Harris+Hoole and ribot won Top 20 Innovation of 2014 by Retail Week, won the Payments Award 2014 and won the Retail Week Customer Experience award for best use of technology in the Customer Experience 2016 and bronze winner for Mobile Best Practice in the 6th Annual Lovies Awards 2016.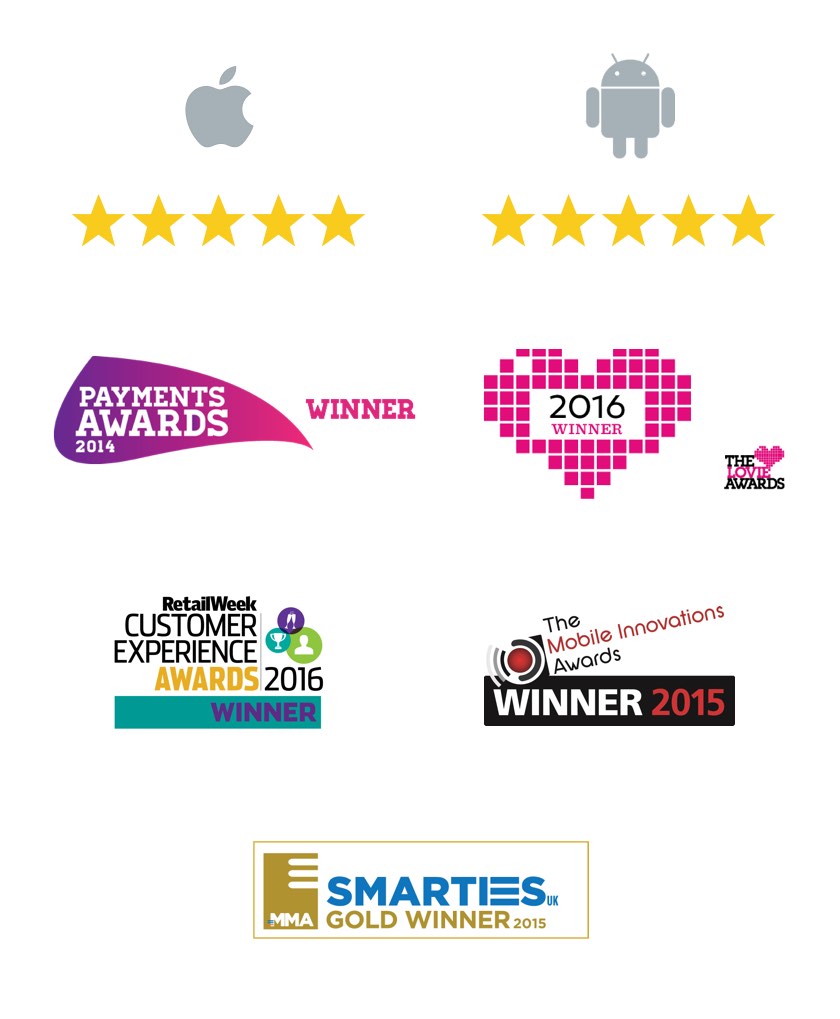 Uniquely personal
Whichever store you're
in

Go to any H+H and check in on the app, walk up to the counter and say "hello". Mister Barista will already have seen you appear on their till, and they'll already know your name, usual coffee and balance. This means that more time can be spent having a nice little chat while your usual is prepared to perfection.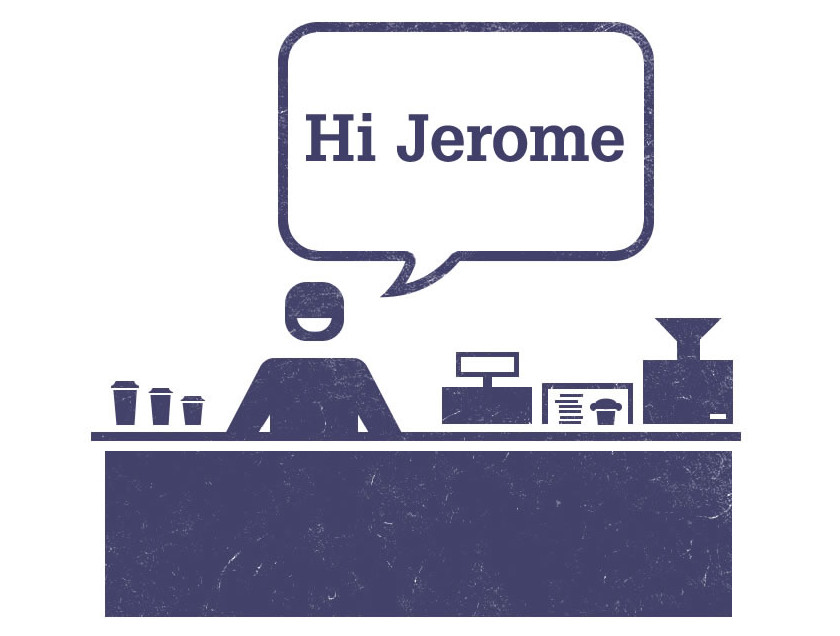 Effortless loyalty
Doing away with
cardboard

The Barista taps the 'stamp card' button on the till and a stamp is instantly added to your loyalty card on the app. When you've filled your card with stamps you can choose to redeem it for a free coffee… or you can save it for a rainy day. Cool beans.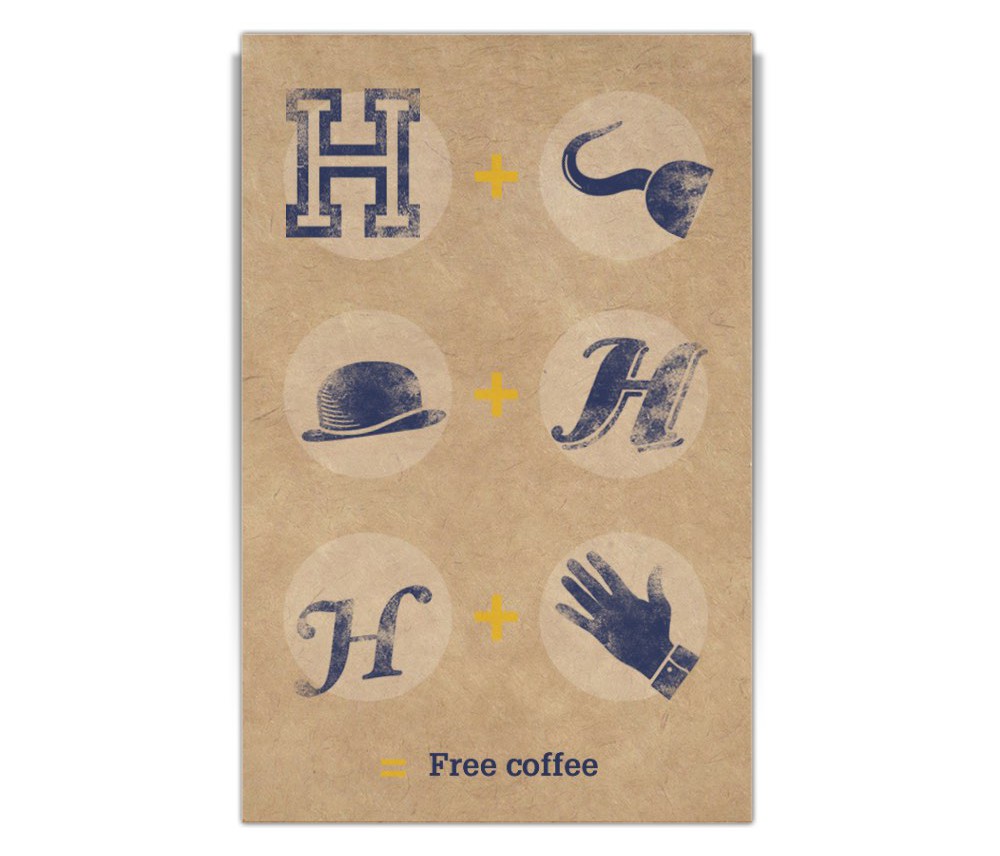 Frictionless payment
Paying with a 'yes'. You can now use your phone to easily pay for coffee, tea and food without using a credit or debit card. Check in, confirm your usual with a 'yes', confirm you want to pay by the app with a 'yes', and that's it! The Harris + Hoole app revolutionises the in-store payments process, seamlessly integrating with the POS, CRM and payment gateway to create an effortless transaction experience for customers that's ridiculously easy…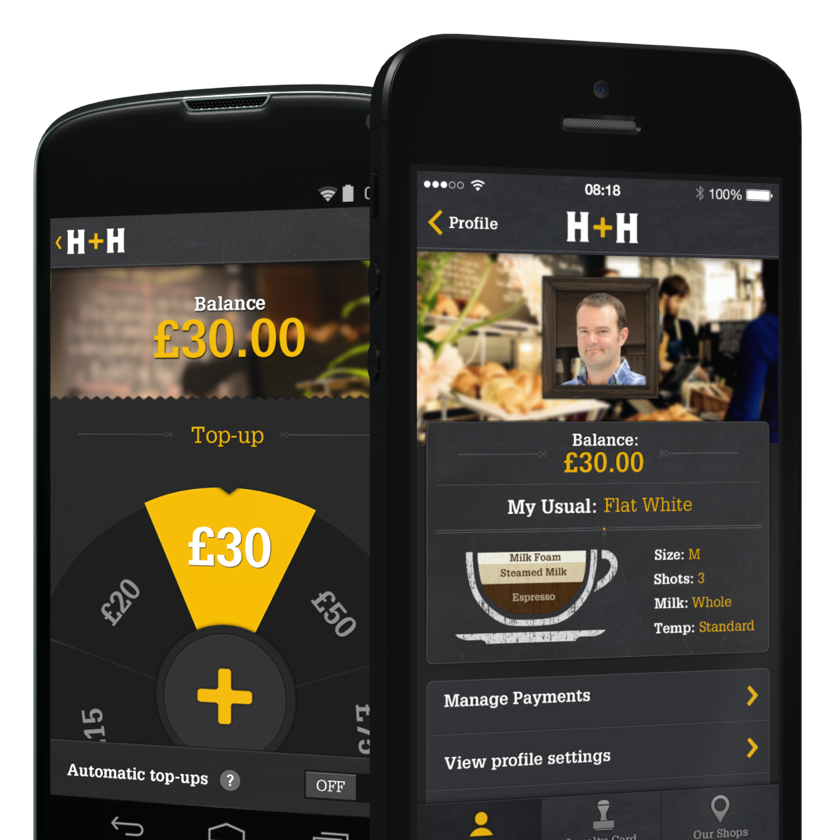 As a new coffee brand in a crowded marketplace, we wanted to build an app that would change what customers expect from a high-street retail experience. ribot helped us achieve this vision with original thinking and placing the customer at the heart of design.
Lightning-fast and bullet-proof
Embracing human-centric security
There's a one-time sign-up process for payments: simply enter your card details, and top up to the preferred balance securely as needed with a passcode or use Apple Pay. In-store authentication is handled using face identification from a stored profile photo that appears on the POS for each check-in. We wanted to embrace the humanity of the interaction, not hide behind a myriad of fussy technological layers, especially given the low average transaction level.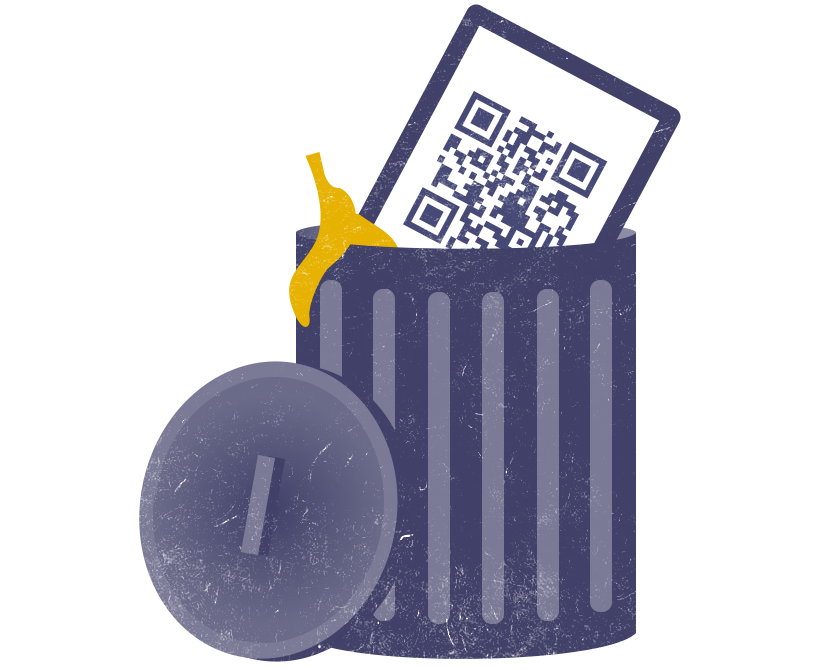 Making paying almost too
easy…
No need to think about
money

For an even smoother payment experience, we also created 'auto top-up': a setting allowing you to allow the app to automatically top up your balance when you fall below a fixed amount, meaning you never run out of coffee credit!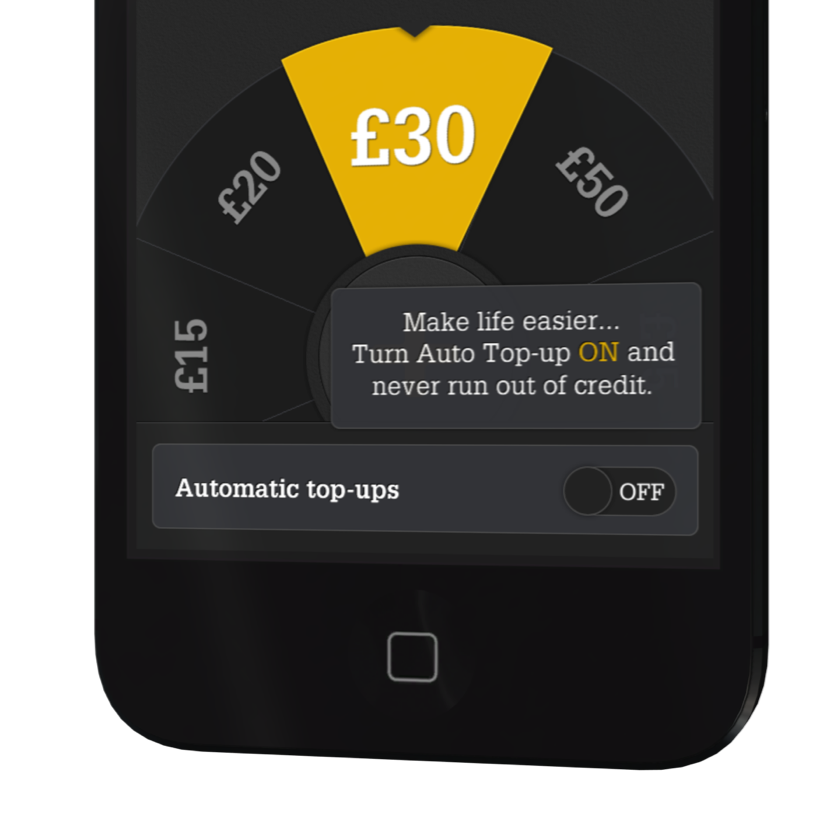 Creating an addictive
UX
It's all about the
micro–interactions

The check-in pull-down is an interesting micro-interaction in the ordering process. We're trying to get people to people to commit to a new behaviour; something small, simple and addictive, that they get immediate value out of. Our expectation is that people will get hooked on this memorable behaviour, and therefore get hooked on the result.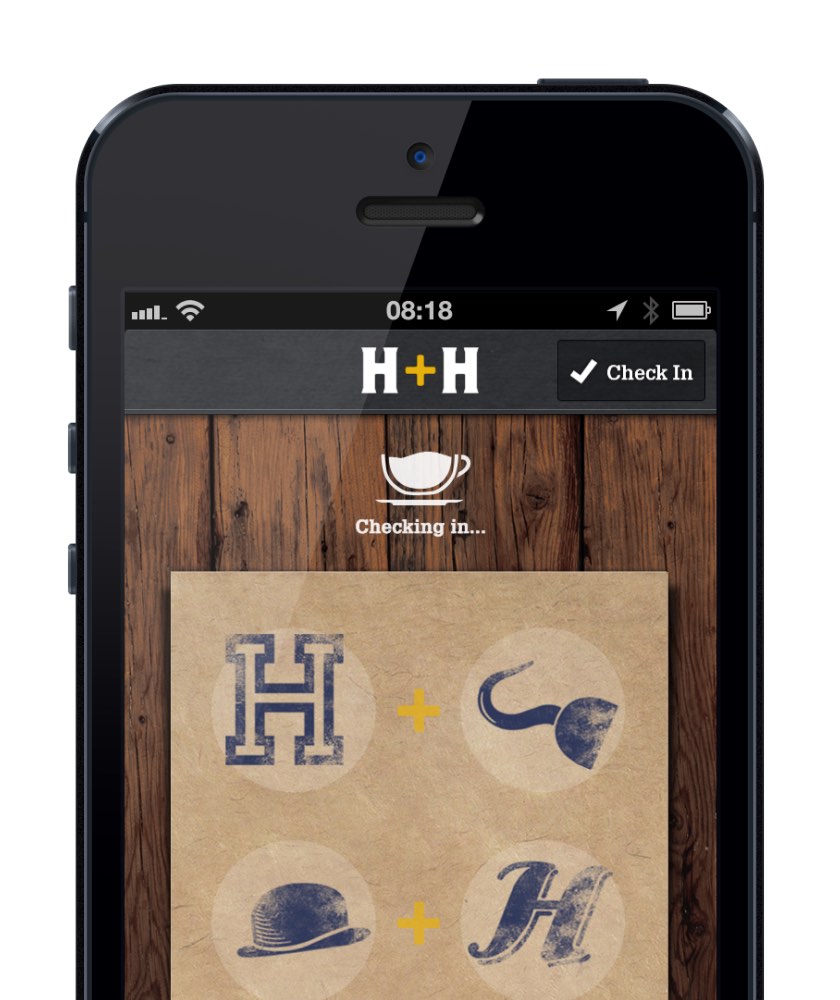 The 'yes, yes'
model
The end experience is pure
magic…

What it all boils down to is that the entire H+H ordering experience is simpler, quicker, more fulfilling and addictive than the competition. You're left with more time to enjoy what you ordered, because in the end, the experience is not about the technology, but about what it unlocks: namely, a new standard in the coffee experience on the high street.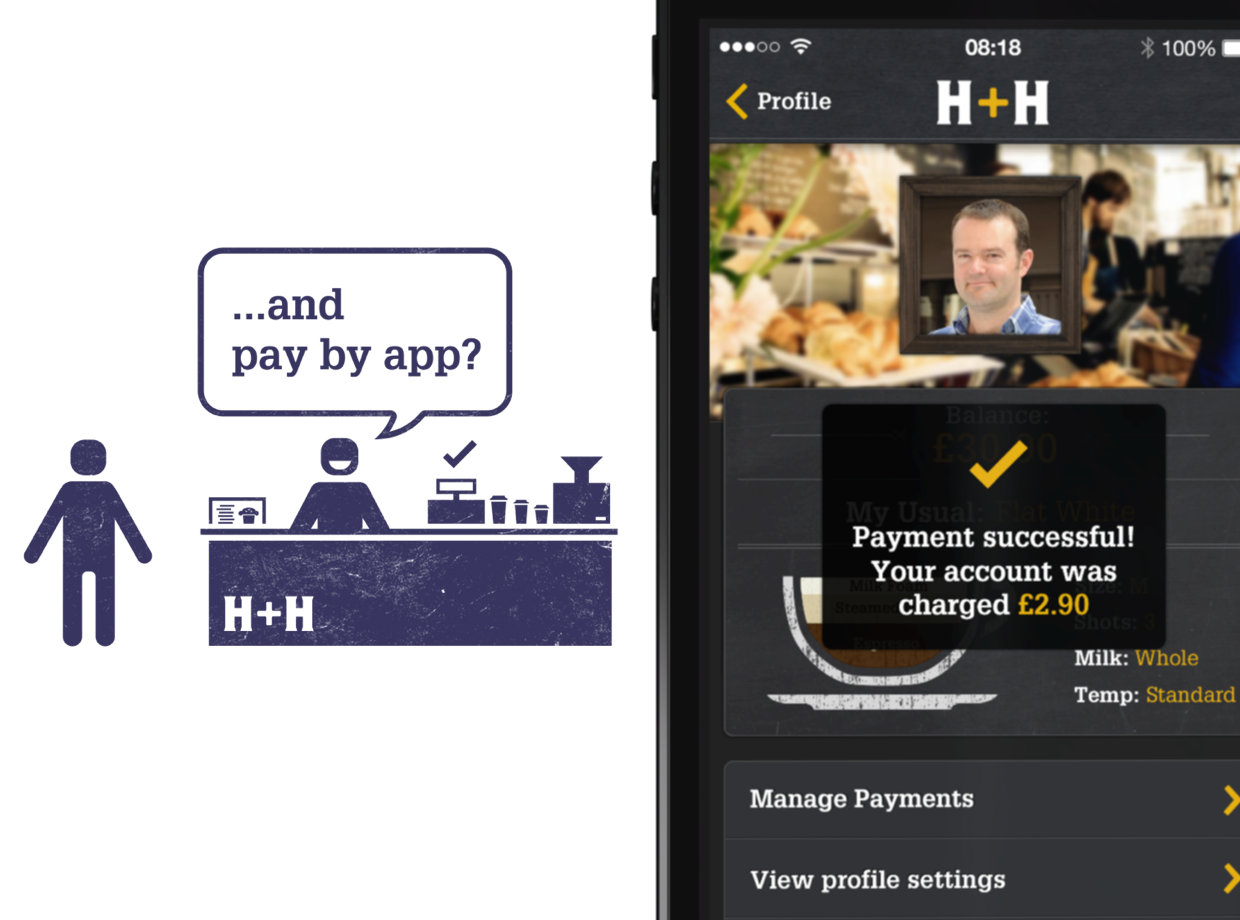 ribot have created an app that seamlessly blends the digital and physical environments together, creating a truly delightful, award-winning and industry-leading experience.
As usage has continued to grow, the app has become entrenched as a key part of the customer experience for Harris+Hoole customers. As the app is now so core to Harris +Hoole operations, they have taken the design and build of future versions in house. The very latest version has been built by the in house H+H team.
So what are you waiting
for?

Download the app, get to an H+H and check out the experience for yourselves!