A little introduction
We've been working with easyfundraising to design and build their new mobile service. The iPhone and iPad app offers a simple way of raising money whilst shopping online, providing customers an effortless way to help good causes and charities they care about.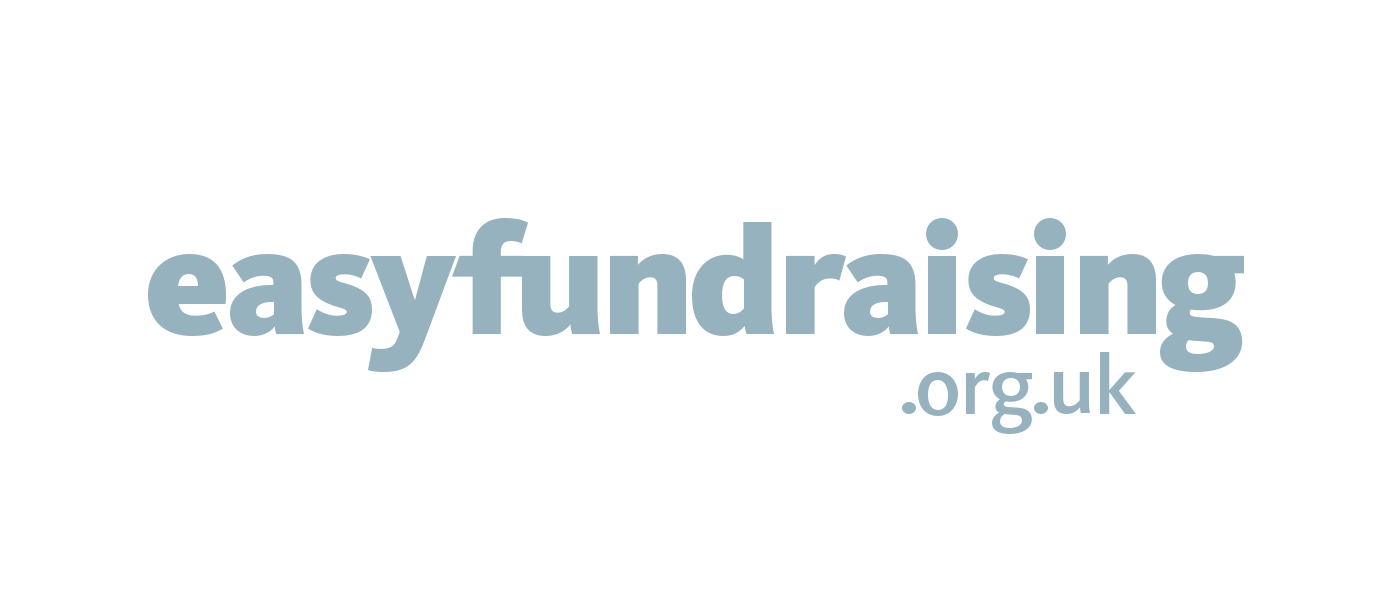 For this project we wanted someone who would redefine our user experience and address some of the challenges our users face by turning things on their heads…
easyfundraising's model
It's a win–win–win
situation

easyfundraising.org.uk have been helping customers raise money for good causes since 2007, with customers just needing to shop online via the site to make it all happen.

And everyone wins: customers have a percentage of their online spend donated to a charity of their choice, EF and the charity both take a slice of this figure, and retailers fundamentally get the sale. All smiles.

easyfundraising have created partnerships with established brands like John Lewis, Marks & Spencer and over 2700 other retailers. The existing easyfundraising website has helped donate over £7.5m to charities and good causes in the UK.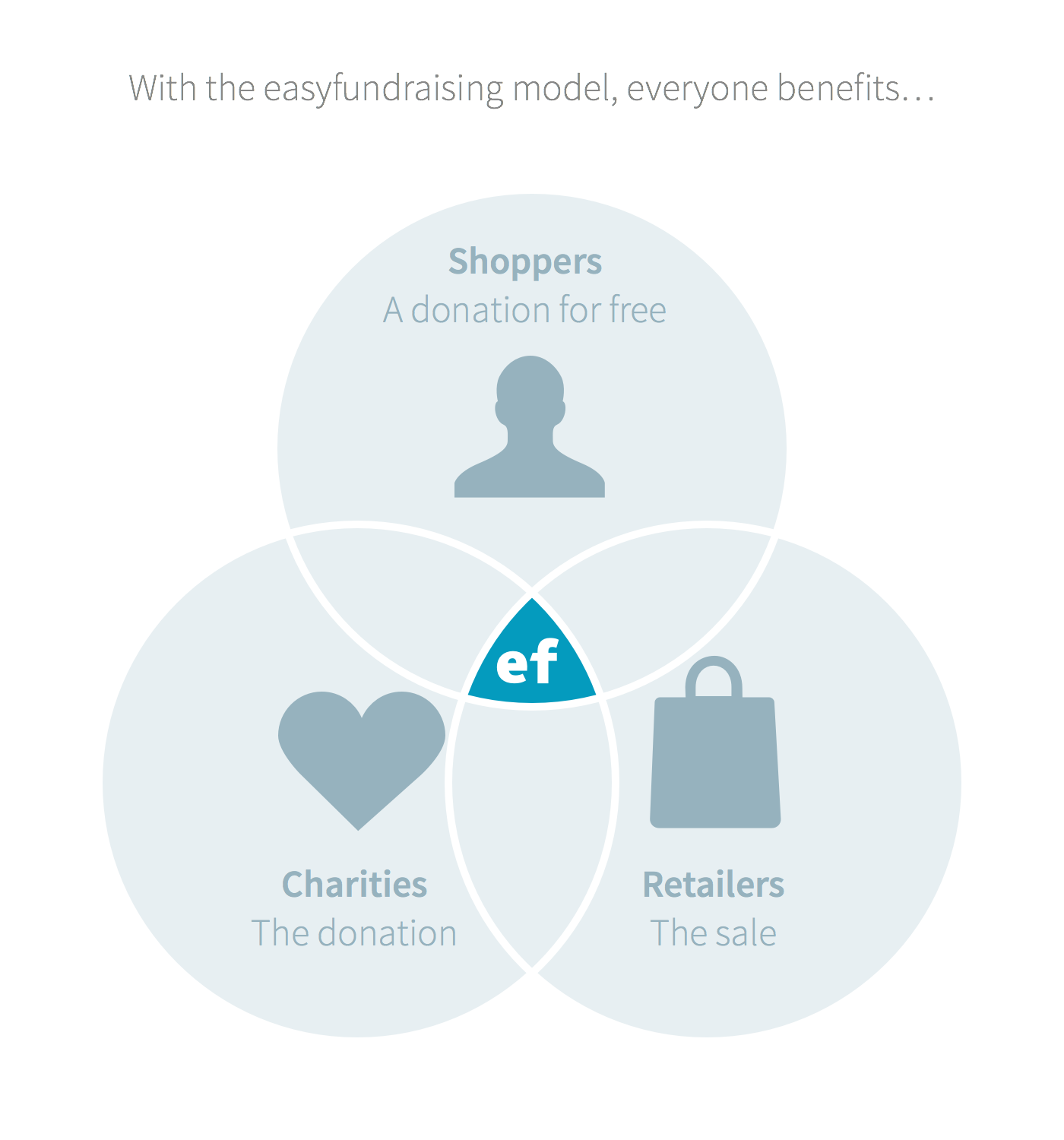 With their fresh and exciting process, the ribot team certainly delivered. They were a pleasure to work with and we're extremely pleased with the results. It marks the start of a long journey ahead.
The opportunity
Where ribot comes
in

Many of easyfundraising's customers were using a mobile device to shop and so they spotted an opportunity, approaching ribot to design and deliver a mobile-specific app on iOS.

The aim of the project wasn't to emulate the existing website, but to make a customer's shopping process even simpler on their mobile device, and foster a new habit of doing all online shopping via the app.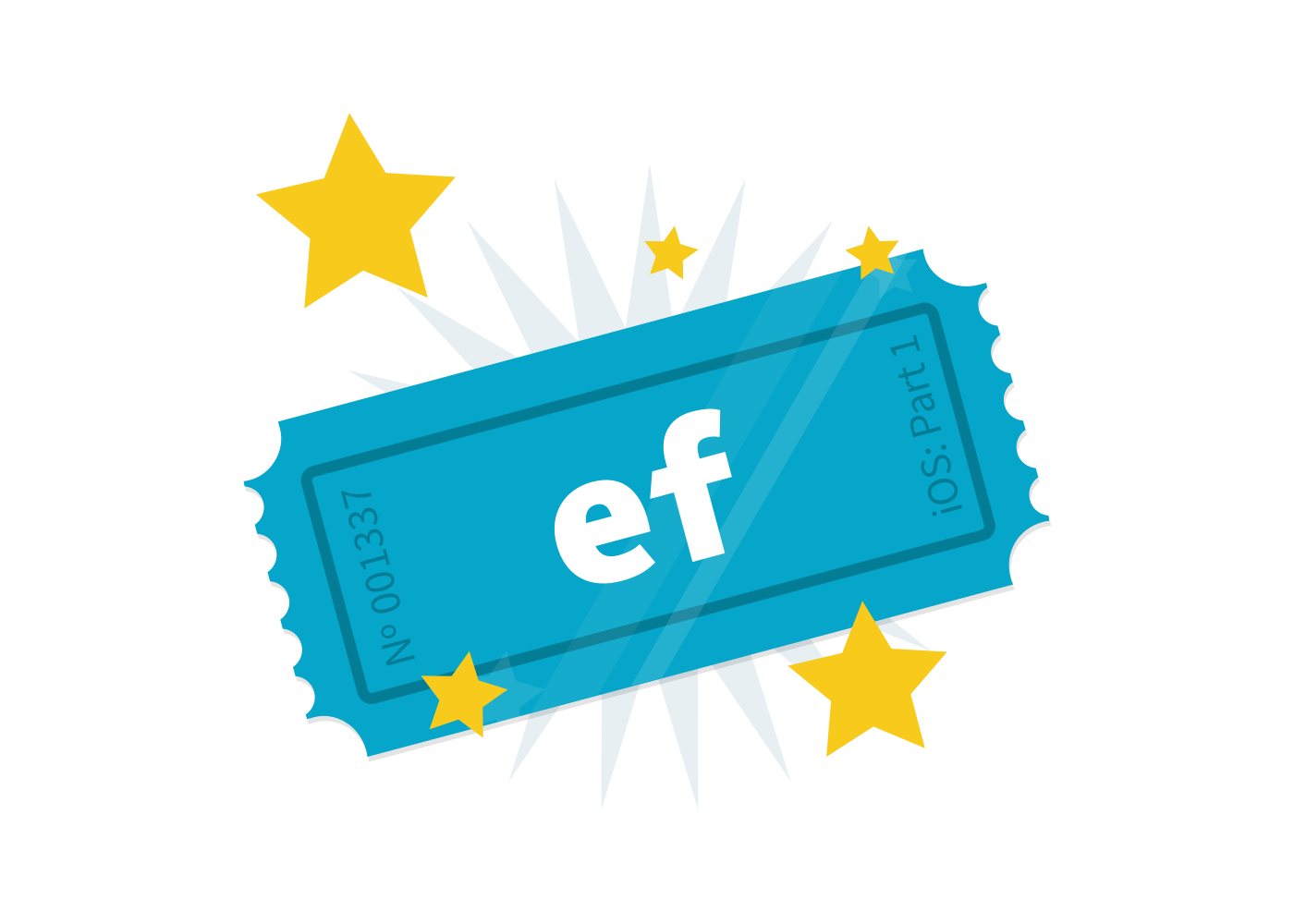 Overcoming User Inactivity
The habitual problem we needed to
solve

We started with our Discovery phase, conducting user research to understand the customer experience of the existing service. We found that although visitors found it easy to use the website, they often forgot to visit before shopping. A large proportion of customers were using a mobile to shop and many were asking for an easy way to remember to use easyfundraising on their mobile.

Our Discovery phase identified the changes we needed to make to the user experience when we launched the mobile & tablet service. These changes encourage customers to use the app more frequently, bridging the gap between their m-commerce purchases and easyfundraising usage.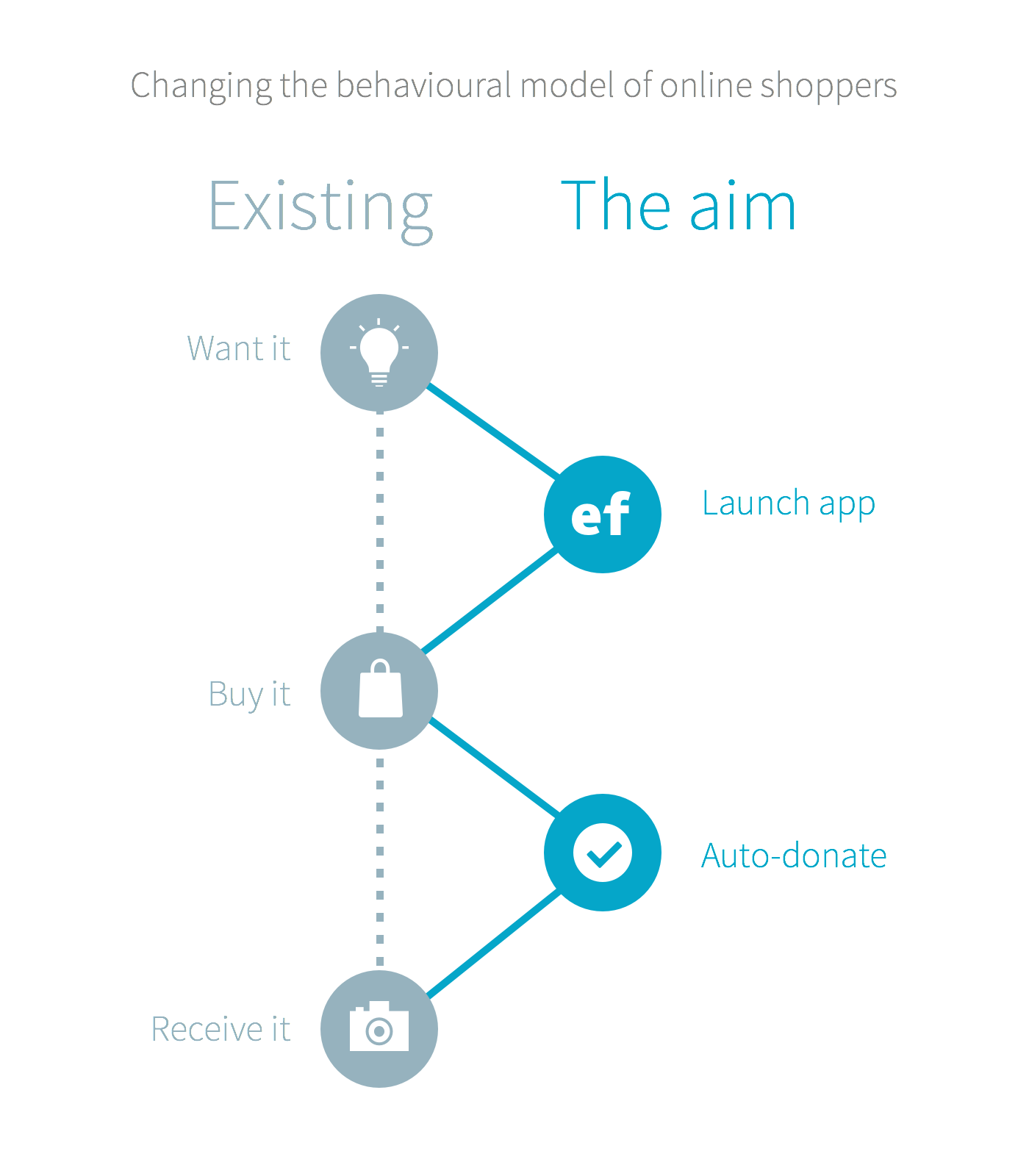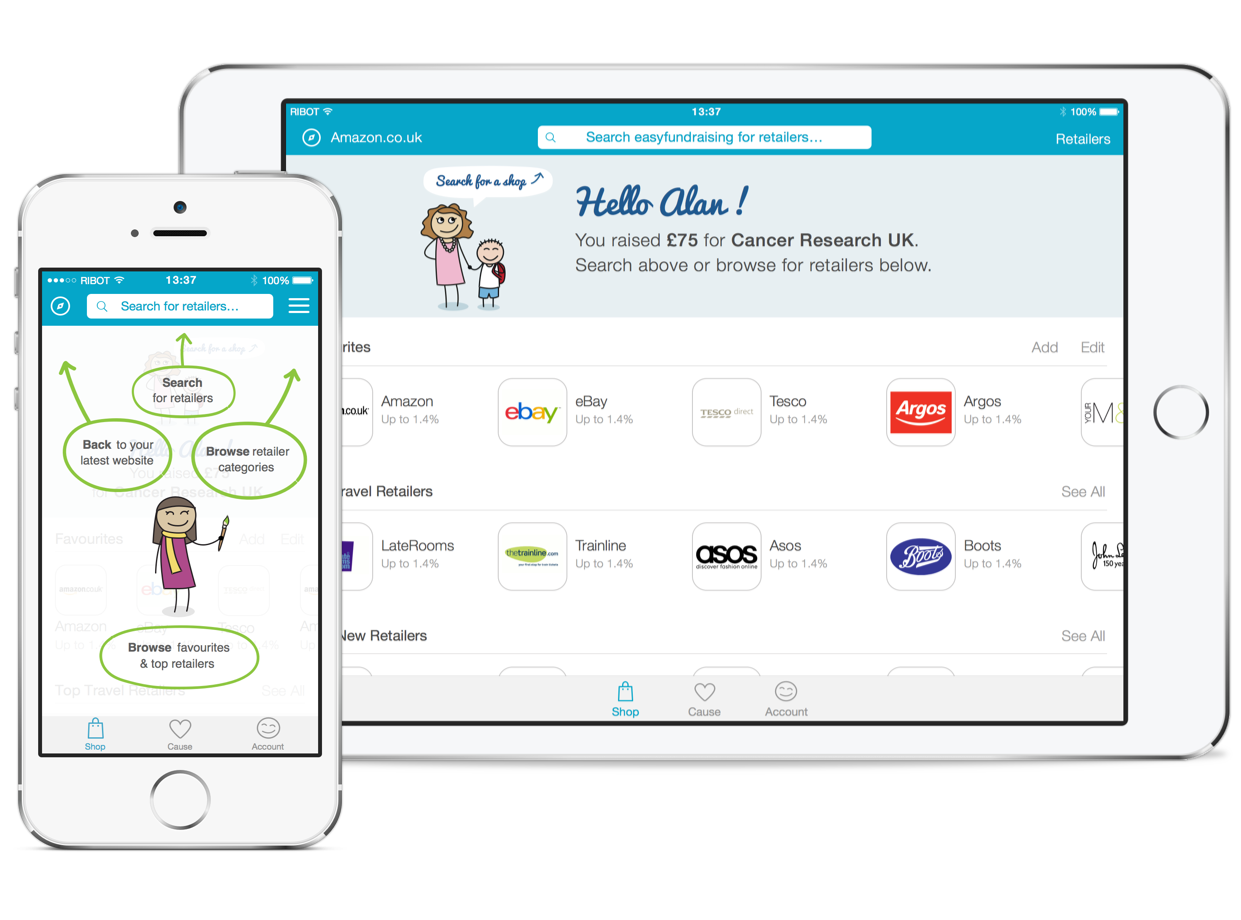 Making easyfundraising a shopping
destination
Simply shop within the
app

In order to make the easyfundraising app a compelling place to shop against other apps and browsers, we needed to design convenient, focused set of features to encourage a new set of behaviours.

The 'Retailer Search' interface was designed to emulate 'Google' search, so that customers use this as their starting point when shopping, preventing customers from needing to leave and shop within Safari or another app.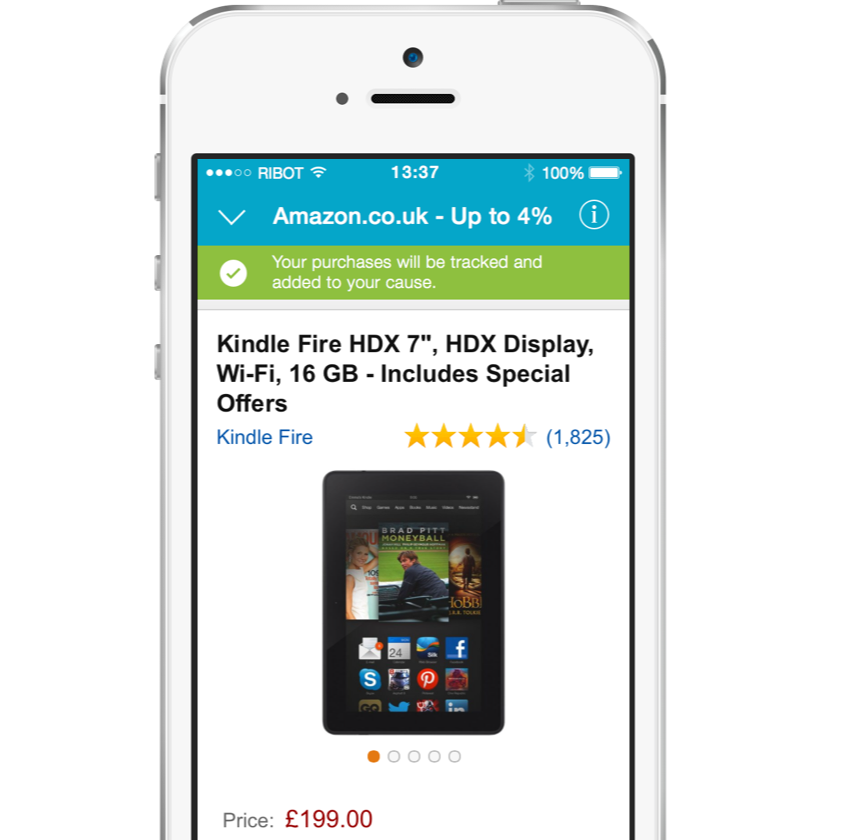 Nudges and reinforcements
Using technology to encourage positive
habits

Our research showed that customers absolutely loved seeing how much they had raised. The app has been designed to offer customers helpful nudges, reminders & timely prompts to shop using the app, using 'push notifications' linked to key events. These include:
How you're contributing to something on a bigger scale:
Wow! Cancer Research UK just reached £8,000 in total

donations.
A subtle sense of competition, the goal gradient effect and a sense of fulfilment:
Only £5 to raise until you become the top fundraiser for the Drama Association of

Wales
Celebrating your unique successes within a set time period for a specific cause:
Wahoo, you raised a total of £29.43 last week for the Isle of Wight Donkey

Sanctuary
Intelligently-timed, personalised nudges like this are immensely powerful, and can be used to promote all sorts of consumer behaviour when using your product.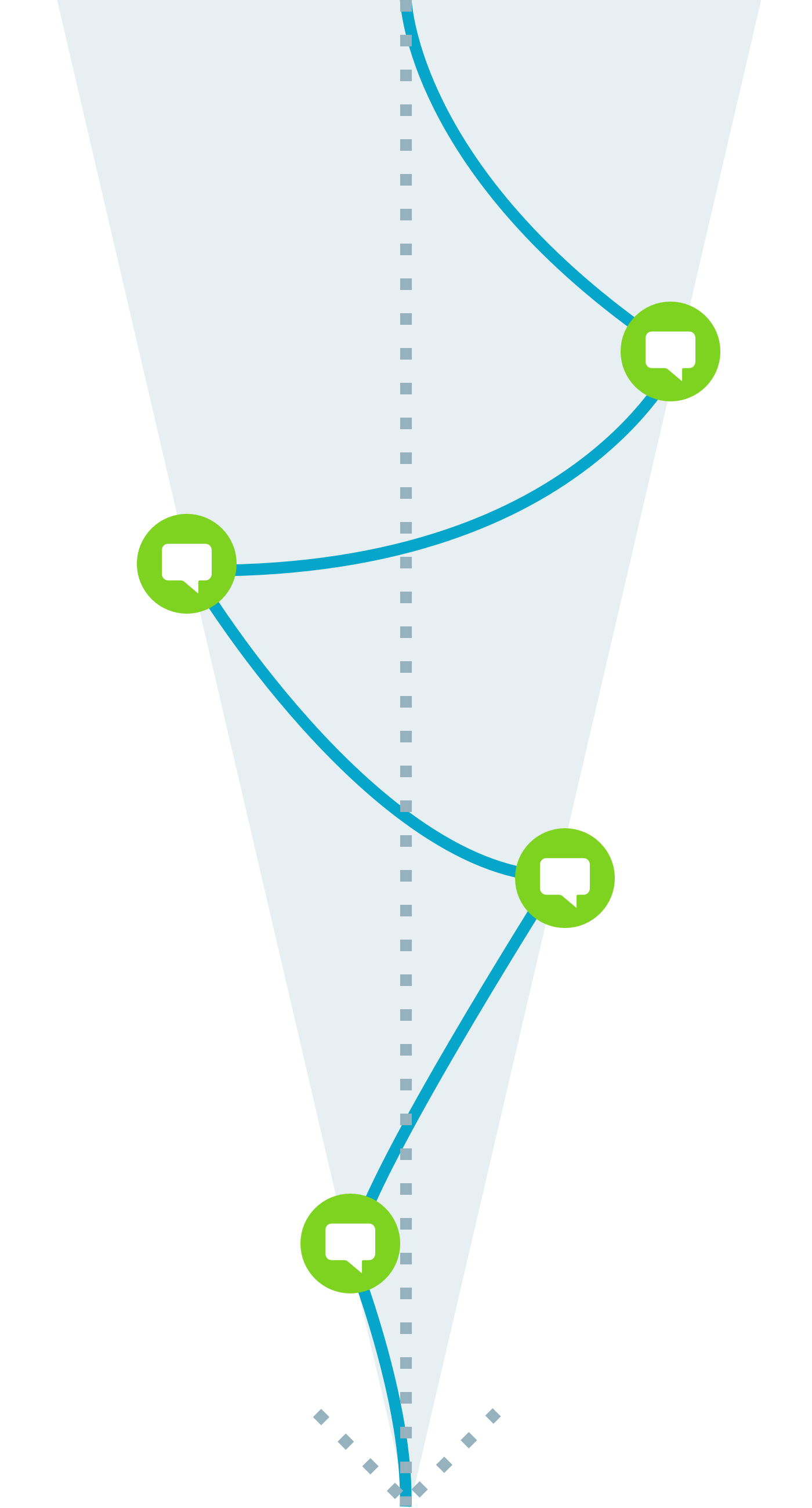 Competitive donating
Using motivational techniques to foster greater
fundraising

To help users to stay motivated, we ensured they were able to keep track of their cause easily and observe how well the cause is doing overall with 'cause statistics'. The leaderboard Top Supporters section allows users to track their efforts against others supporting the cause, to fuel a healthy level of competition.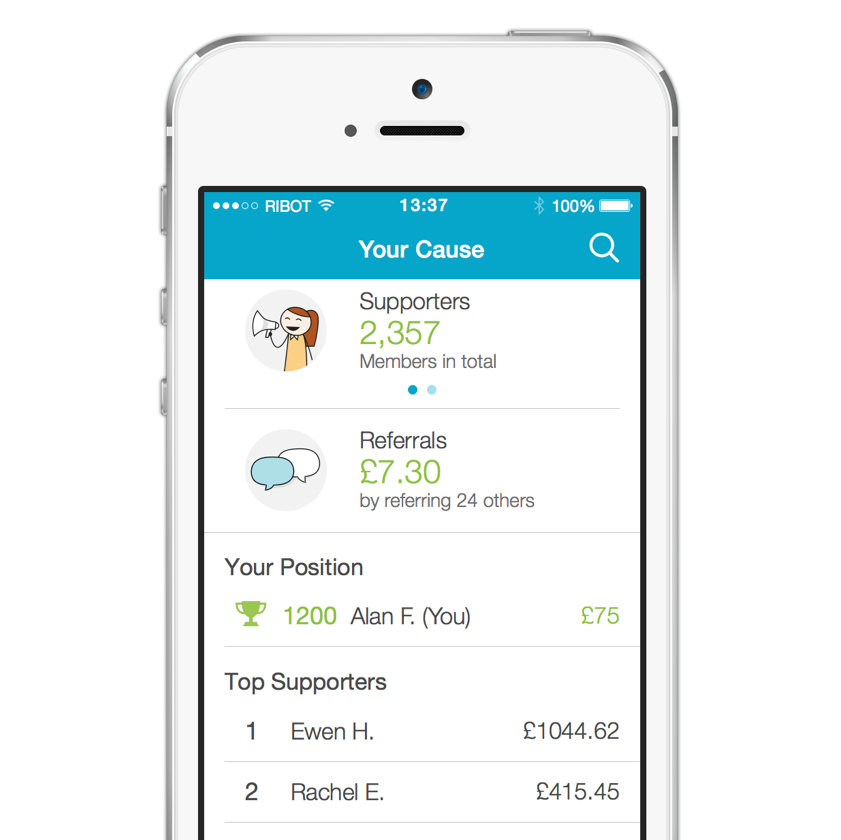 The technicals
Building a cutting-edge
experience

Even though we naturally utilised mobile web technology for the retailers themselves, we decided to develop the core of the app natively using Objective-C, as we were keen to ensure that we could create the best possible cross-device user experience.

Part way through development, the launch of iPhone 6 and iPhone 6 Plus were announced. The use of Objective-C and Interface Builder allowed us to scale the application from a 3.5 inch screen to the latest iPhone 6 Plus easily and with less development time, ready for iOS8.

Given our desire to ensure the high quality of the app, we implemented a strict testing process for the app, writing a series of 'unit tests' to be run automatically whenever new code was submitted.

At the end of each agile sprint, we also used Crashlytics to send beta app builds to the easyfundraising team for testing and constant iterative feedback.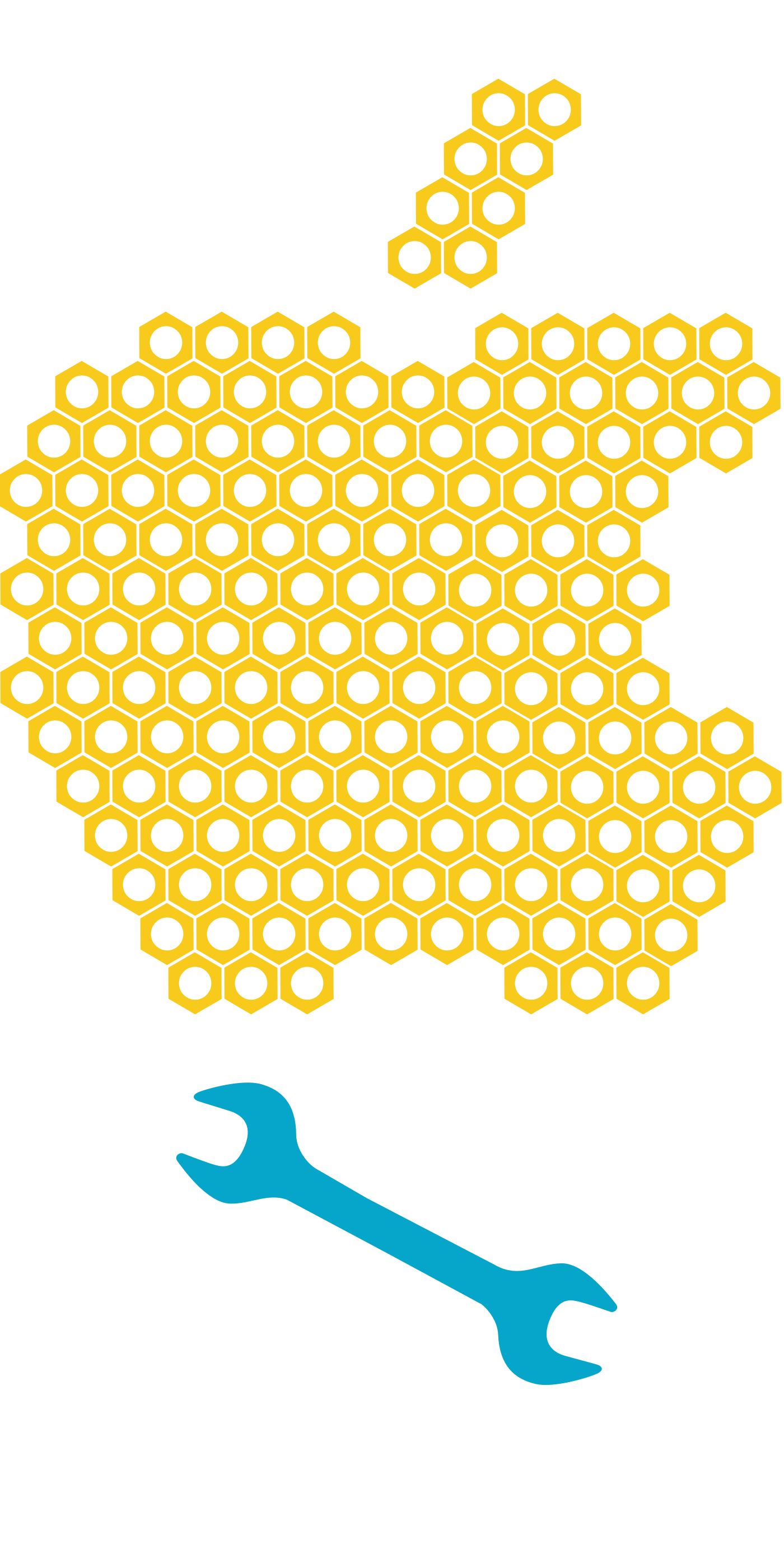 An instant success
Some great results, from launch
onwards

We launched on the App Store in October '14 and we've continued to see great numbers from the app. As at January 2016 we've seen:
460k purchases made via the

app
£600k of donations

raised
£17m spent through the app so

far.
Customers have responded very well to the app, and we're very excited to have seen it become a part of their regular shopping behaviour.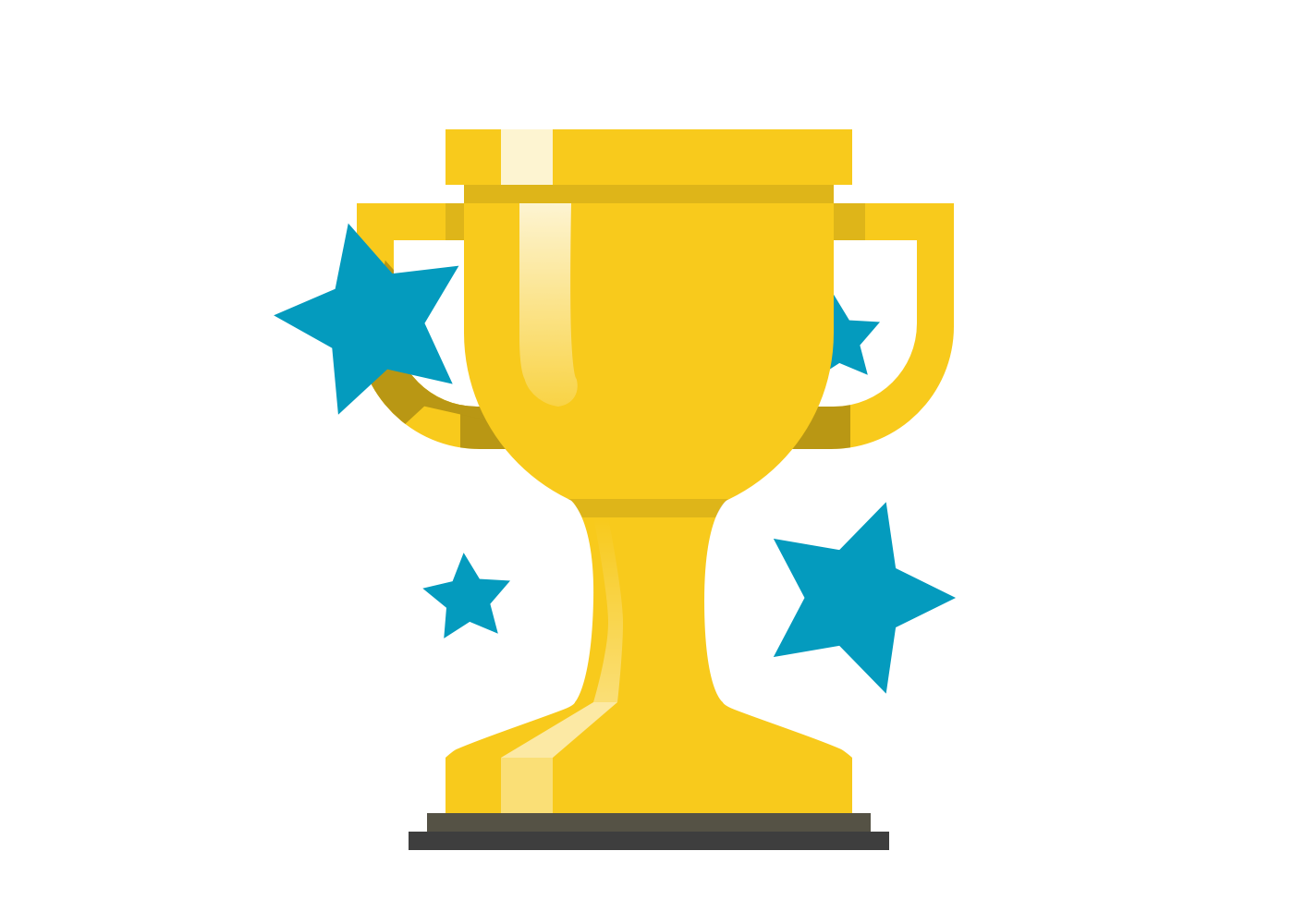 Concluding notes
It's all very exciting
really…

We delivered a lovely new iOS app, ready to work on both iOS7 & iOS8 and optimised for all iPhone and iPad devices at launch. We've designed and built the app around two different behavioural components to prevent customers from forgetting to use easyfundraising:
Retailer Search - where customers can search for retailers they want to shop with directly from this page and do all their online shopping from within the

app.
Helpful reinforcements - where we will use smart, timed notifications to give customers reminders and multiple reasons to use the app at key intervals. This will be rolled out

soon.
The app launched on 14th October 2014 and has had some fantastic reviews and results. Why not see if for yourself? Download the app and start supporting your favourite causes every time you shop.