At ribot, we're keen to use our understanding of technology to make many lives both easier and better. We regularly hold innovation sessions where we focus on an element of everyday life we believe we can improve, via the use of behavioural psychology, technology and design.
Innovation
At ribot, we learn by doing and we follow a user-centred, prototype-driven process to create innovative products and solutions. We put the users at the centre of our innovation. We've recently been looking at how we can solve everyday problems via the Internet of Things.
In our innovation sessions, we use a similar process to the one we use when we work with clients. We use all the information we have to understand the problem, identify a range of solutions and then vote on a preferred solution that we can very quickly prototype and test.
Gartner has forecast that 20.8 billion connected things will be in use worldwide in 2020 and they state that 5.5 million new things are being connected every day in 2016. In one of our recent ribot innovation sessions we decided to look at an issue we regularly have a problem with and see if we could use the Internet of Things to help solve it.
The problem?
Just how do you pick a good bottle of wine?
Our research has shown that when people are visiting supermarkets, dining out or visiting an off-licence, they are often overwhelmed by choice. They find it difficult to pick a bottle of wine.
The WSTA report in 2015 suggests that 60% of the UK population drink wine and wine sales were worth £10 billion to the UK Industry in 2015. That's lots of people, choosing lots of wine.
Have you ever visited a supermarket and been greeted by a wall of over 500 wines and simply not known which one to pick? Have you arrived at a restaurant and felt flustered over which wine will make the best choice for you and your dinner guests? Ever looked at someone else's wine choice and simply copied what they chose?
As part of our innovation process, we've been interviewing and observing consumers. We discovered that wine choice is still a mystery for many. We wanted to use this to see if there was a simple way to educate customers about wine and encourage an exploration of wines? Below are some the findings from our exploration.
Behavioural Economics
Choice Paradox
Some of those we studied were overwhelmed by the amount of choice of wine on offer. A learning previously highlighted on behavioural economics resource Cognitive Lode called Choice Paradox. Too much choice can lead to indecision and choice overload can make you question your decisions prior to making them. This can lead to decision-making paralysis and feelings of anxiety or stress. Barry Schwartz has written a book called the Paradox of Choice, that highlights this effect. Schwartz claims that eliminating choices can greatly reduce stress, anxiety and the busyness of our lives. In our investigations, we found that some of our users found selecting wine hard work. Picking up and reading each label takes time and so people can end up choosing by deals. They may not feel confident or excited about their choices.
Complex Product Descriptions & Terminology
We used an ethnographic study to identify people's behaviour when choosing wine. They picked a bottle on the shelf and searched for words that they recognised like 'berries' or 'chocolate'. Some of the usual terminology used wasn't accessible to all - not everyone knows their Chenin Blanc from their Sauvignon Blanc. The descriptions made it hard to make a final choice, but the tasting notes were helpful.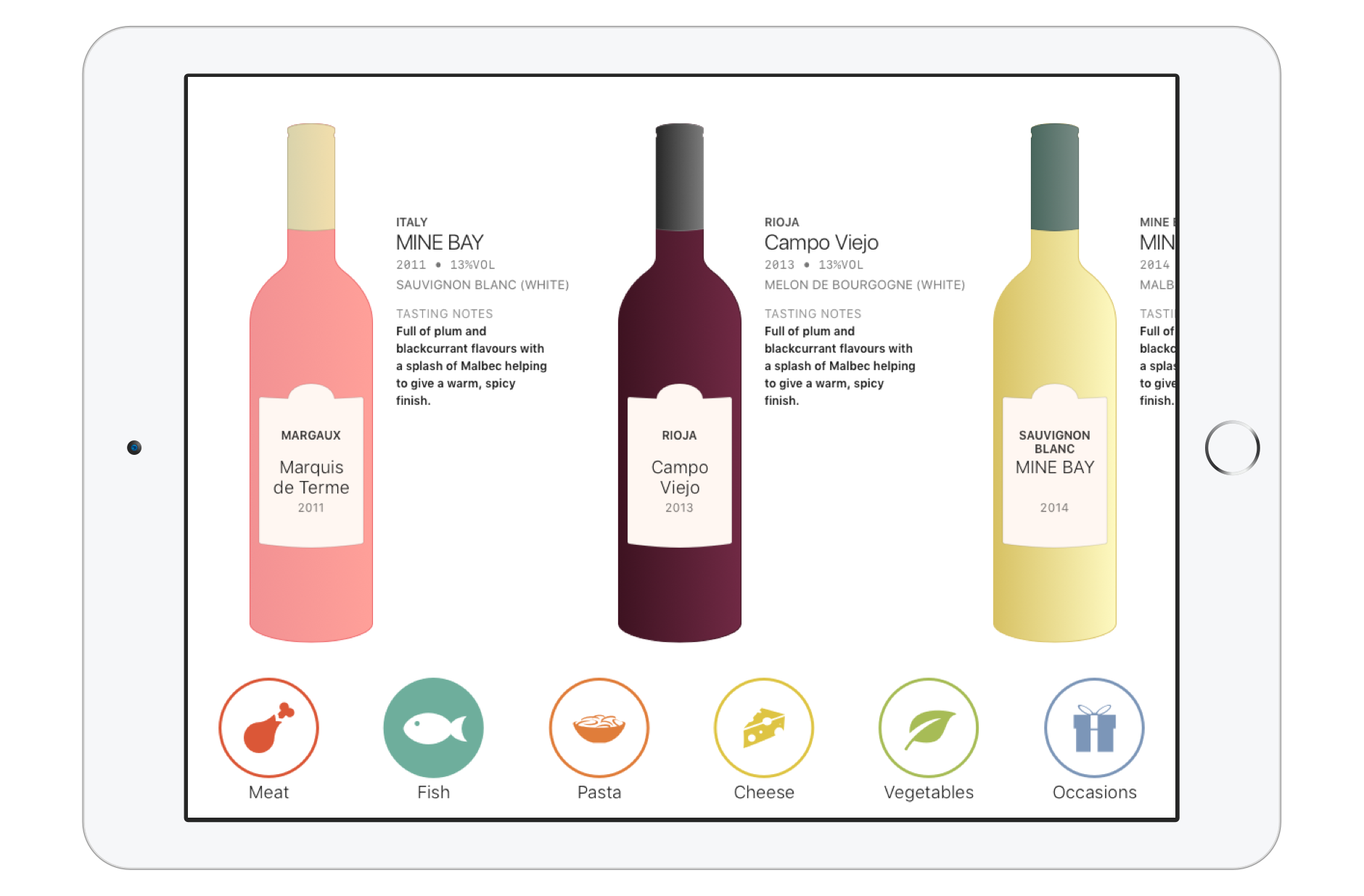 Social Default Bias
The Social Default Bias. If as a consumer we're unconfident and not well-informed when choosing between different products, observing others products significantly influences our own decisions. We found this was true for some of our users who admitted to copying others wine choices in the supermarket or buying a wine a friend recommended.
In summary, the people we observed and interviewed over the study tended to choose whatever was on promotion, something they already were familiar with or what they saw or knew someone else had chosen.
So how could we make choosing the perfect wine both easier and more fun?
In our innovation session we looked at possible solutions to solve this and asked ourselves some key questions:
How can we simplify wine choice and make it both simpler and more fun?
Can we use the Internet of Things to help solve this problem?
Can we encourage customers to explore more and make better wine choices?
As a team, we used techniques to explore a range of potential solutions. We knew that we needed to:
Ask intelligent questions to filter noise
Reduce choice in an intelligent way
Create a personalised experience for users
Help users explore and learn
We generated a number of ideas using different creative techniques and mapped the customer experience. We then asked each member of the team to vote and chose one potential solution as the preferred solution. We then built a prototype of one of the ideas we had voted for as a potential solution. This idea was based on a concept originally conceived by Tesco Labs and ribot. We've catchily named this prototype 'Vinopairo'!
'Vinopairo'
The proposed solution was to build a prototype of an interactive wine shelf. The shelf would be connected with a simple to use app that would help users discover a personalised range of wine options, providing both education and inspiration.
A key part of the solution was allowing the users to select wine by pairing it with food they planned to eat. Everyone eats and people regularly eat different food and choose to eat in the evening. Using food first is a more approachable way of accessing wine and it felt like a natural platform on which a customer could base their exploration of wine. The solution would also then let them filter choice by region, colour, grape and price. The solution prototype includes handy tasting notes using keywords customers would be able to recognise and associate with.
The Psychology behind the solution
The app allows the user to narrow down the options available based on what they planned to have for dinner. This limits choice and also provides an element of choice closure. Performing a physical act of closure helps seal the deal and validate your choice. Reducing the number of options available allows the customer to feel more confident about the choice they have made.
Von Restorff Effect
The LED lights on the shelf create a helpful contrast, displaying the products that suit you and those that don't. Items that stand out from their peers are more memorable - Von Restorff effect.
Speak-Easy Effect
The tasting notes in the app are brief and use keywords that will help users identify the types of wine they might like, the Speak-Easy Effect. There is enough information given in each description to enable users to make a confident choice about the wine.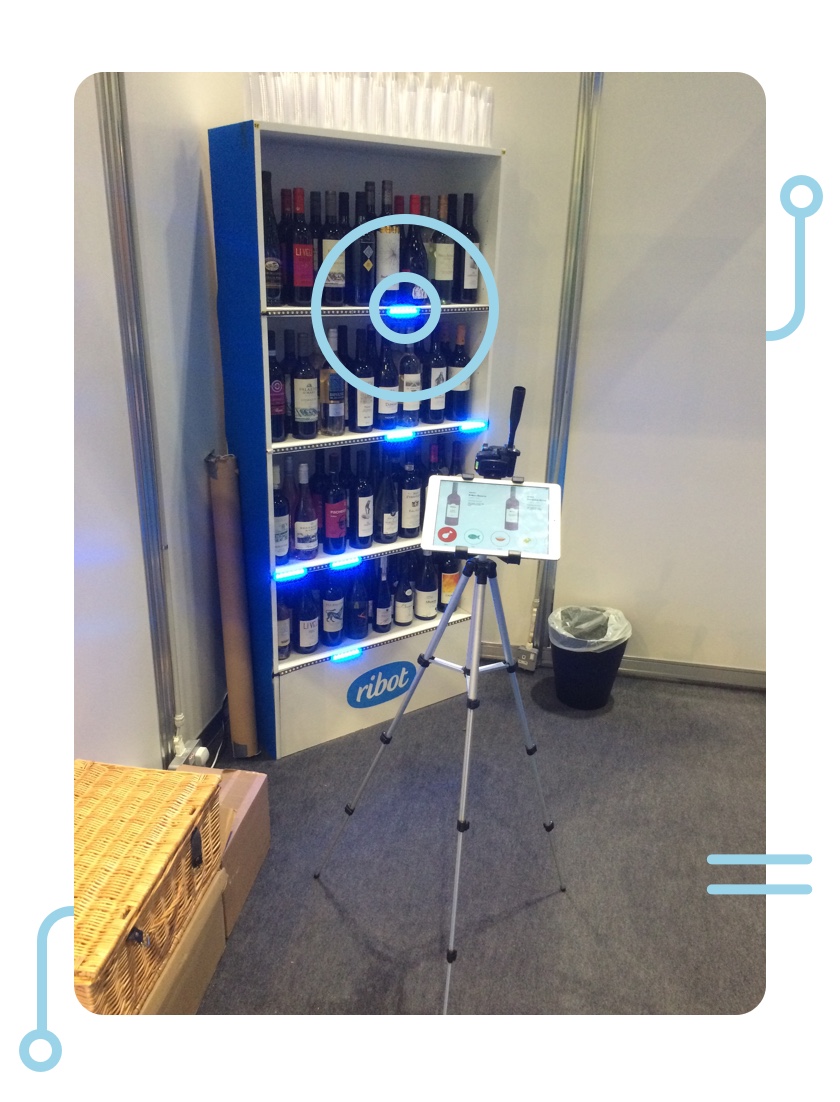 Reducing Choice in a fun way
The app works with the interactive shelf using LED lights to highlight the chosen wine on the shelf. The LED lights bring fun and a sense of theatre to proceedings.
The app asks the user what they plan to eat e.g. meat, fish, cheese, pasta etc. As the user interacts with the app, the shelf lights up to physically show you which wines are appropriate according to your preferences. We're starting to reduce choice in an intelligent and accessible way. Both the tasting notes and the LED lights on the shelf arouse interest and curiosity for the users. The whole concept is fun and the users remember choosing their perfect bottle of wine this way.
The Prototype Day
We wanted to build a working, but low fidelity prototype quickly and easily that could then be tested with users. To build the prototype, we worked alongside digital artist Seb Lee Delisle for the day. Seb came to the studio equipped with little black cases of electronic goodies including wires, light resistors, NeoPixels, a breadboard, a logic converter and a Raspberry Pi Zero. After a few electronics lessons with Seb, we split into two teams, software and hardware.
The Hardware team, which included our designers, affixed NeoPixels to a bookcase, our temporary wine shelf, then wired them to the Raspberry Pi. The software team developed a programme that enabled a specified segment of NeoPixels to light up on the pre-bought shelf of wine. The software team also built a very simple iPad app to provide the interface from which a user could make their selection.
We later added a sommelier's tasting notes, the food they matched with, and the name of the wine, country, grape vintage and abv to each listing of wine in the app. We built code so that the app only lit up the relevant wines on the shelf that had been selected.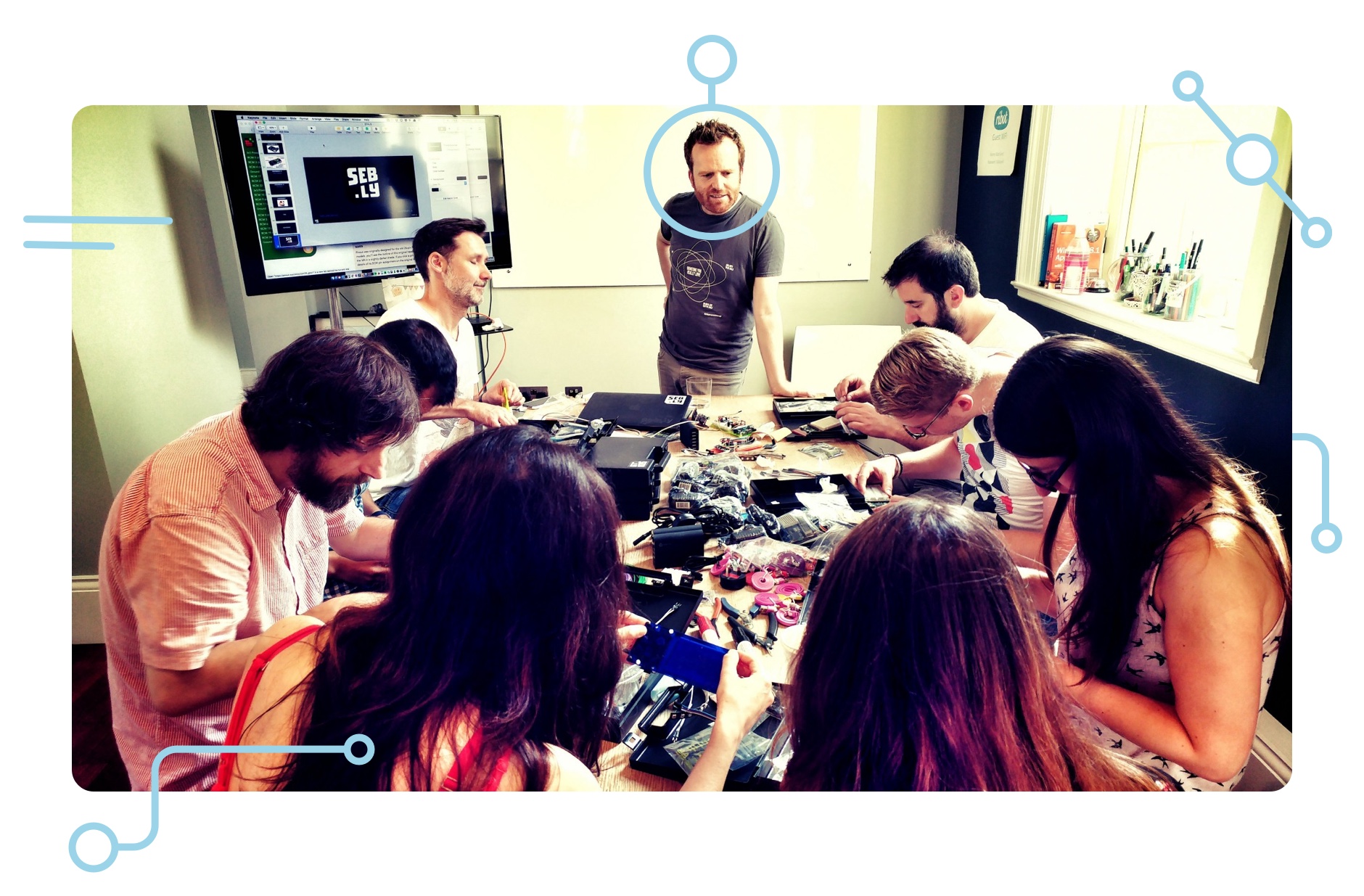 Testing
The iPad app communicated with the lights programme running on the Pi through sockets over WiFi. By the end of the day, we had a working prototype. We've so far had great feedback from those that have used it to pick and then taste a wine. (We've even had a couple of offers to buy the entire shelf!).
Design sprints & prototyping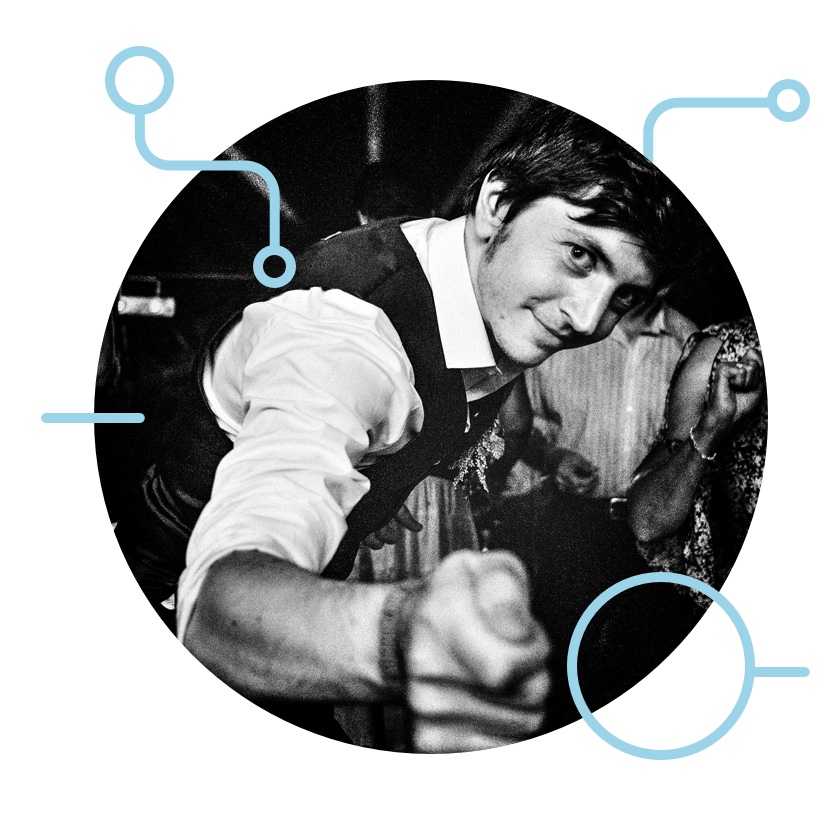 At ribot we believe in pioneering new ideas that fundamentally make the world a better, simpler place to be.
We put the customer at the centre of the innovation process, which allows us to design and develop magical experiences that integrate both the physical and digital.
Our ribot design sprints help drive game-changing innovation underpinned by our experiments with behavioural psychology, design and emerging technology. If you're interested in finding our more about our design sprints and prototyping, contact jo@ribot.co.uk